An Artful Journey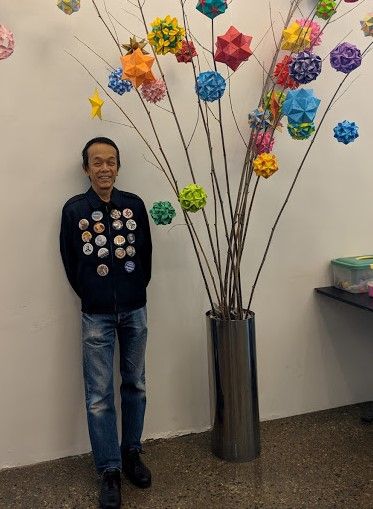 Fridays can be busy at the Folsom + Dore Apartments in the SoMa neighborhood of San Francisco.  LSS manages the supportive housing program here, and you will usually find a group of men and women engrossed in an arts and crafts class led by a soft-spoken, unassuming gentleman known as Tee. 
A former professional fine artist and teacher, Kek Tee Lim "Tee", patiently teaches his fellow tenants how to create original sculpture in origami and paper mache, and guides them in making humorous political buttons.  His partner in this creative endeavor is another tenant and artist, Rene Jones.
The community room at Folsom + Dore is adorned with paintings and the colorful and intricately patterned origami spheres created by Tee and his neighbors. They gather each Friday to create and enjoy  lunch.
Originally from Malaysia, Tee grew up in a rural area where his family ran a successful business and were politically active.  He displayed a talent for creating objects and art at an early age, and his grandmother, who also enjoyed arts and crafts, recognized Tee's creative fire.  She paid for him to attend art school in Singapore, and after graduation, Tee traveled to London, Paris and throughout Europe before settling in San Francisco in 1977.
He took classes at the Academy of Arts in San Francisco and at San Francisco State University, and his talent was quickly discovered.  He was represented for many years by the prestigious Triangle Gallery, which closed in 2011 after 50 years and was the longest running contemporary art gallery in San Francisco. The gallery staged a one-man show of his modern acrylic sculpture in 1987.  His works were featured in other exhibits, including one at the California Governor's Mansion in Sacramento. He also won grant awards from the California Arts Council to teach art in multiple locations throughout San Francisco for six years.
Tee was in a happy domestic partnership when he learned he had a life-threatening illness.  Convinced he would not live long, he transferred all his assets into his partner's name. However, it was the unexpected death of his partner by a heart attack in 2005 that changed Tee's life.  His partner's surviving family refused to share any of estate with Tee and cut off contact, even though they had been congenial toward the pair in the past.
In shock, Tee suddenly found himself homeless and mourning the loss of his life-partner. This sensitive man had also lost his beloved art studio and almost all hope. His health was failing, too. On a whim, he applied for a Section 8 voucher, which made him eligible to move into the supportive housing program at Folsom + Dore, where he began to rebuild his life and pursue his art again. 
Now, Tee has enthusiastic students at Folsom + Dore and at the Castro Senior Center.  They learn and teach each other new techniques and enjoy building an ever growing number of impressive yet inexpensive hand-made, beautiful objects of art for others to enjoy.