Dear Friends,
The LSS legacy is guided by a commitment to social justice, human rights, and caring compassion towards all, especially our neighbors who are marginalized and discriminated against for their race, religion, sexual orientation, behavior or economic status.  We listen to and engage our diverse staff and clients in conversation around these issues and join in solidarity with our brothers and sisters in affirming that racism must end. 
While LSS's mission has always placed us squarely in the intersection of poverty and racism, these past few months have been especially challenging.  The disproportionate number of deaths of people of color due to COVID have affected us deeply.  We share the outrage over the murders of George Floyd, Breonna Taylor and so many others.
These words from Diane Yentel, the President and CEO of the National Low Income Housing Association, summarize the  history and  challenges LSS and the entire nation must overcome in bringing about lasting change.
A direct line connects America's history of racist housing policies to today's over-policing of Black and Brown communities. The same line connects to racial inequities in housing and homelessness, to chronic disinvestment in Black and Brown communities, and to people of color being disproportionately harmed and killed by disasters from Hurricane Katrina to Hurricane Maria to COVID-19.
In light of all that has happened in the past few  months, LSS once again reaffirms our commitment to equity, social justice and caring compassion to those we serve as they rebuild their lives. We will continue to create new and different ways to engage our clients and communities, even as our state and communities attempt to return to some type of normal routine.
The events of the past week and months have forever changed our lives and the national conversation Permanent change begins with our individual and organizational actions., and we invite you to join us in listening and participating in this new conversation.
A donation (Donate here) in any amount will go directly to services to assist our clients by purchasing and delivering bags of food and daily living essentials to their apartments. Additionally, we can help clients and local businesses by helping to deliver take-out items to our clients.
You can also purchase essential items directly from AmazonSmile (here) and we will deliver them to one of our housing program sites.
If you are a current or retired federal employee, you can make a gift to LSS through the Combined Federal Campaign (here).
Homemade mask donations!
THANK YOU to those wonderful folks who have created and sent homemade, sewn masks for our clients and staff to keep themselves and others protected! We can always use more of these wonderful masks--if you would like to create and donate a batch of masks, please contact Rachel Flores at rflores@lssnorcal.org.
How we're doing this together.
Our wonderful staff from our Sacramento adult programs received a good workout recently assembling and distributing food boxes from the local food bank to clients. Many of our clients are among the most vulnerable to the COVID-19 virus. Recipients of these food donations were reminded that they are not alone and that LSS will still be here providing some of our most essential services.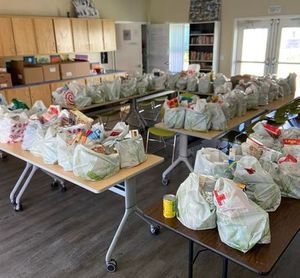 Our Inland staff were hard at work transporting much-needed food and toilet paper to clients. Staff met halfway between Sacramento and Redding to distribute these essential supplies! Toilet paper, disinfecting wipes and hand sanitizer are in short supply. You can help our clients get these essential items by shopping AmazonSmile.