Cash or Check
This is the simplest way to donate cash and make an immediate impact.
Visit our secure

online giving

page now to make a gift using your credit card, or  
Write a check payable to LSS of Northern California and mail to: 1465 Civic Court, Building D, Suite 810, Concord, CA  94520.
And considering joining our exclusive Partner for Good monthly giving club to spread your gift over 12 months and renew your gift automatically each year.
Employer Matching Program
Your gift to LSS of Northern California may be doubled or possibly tripled! Many employers sponsor matching gift programs and will match any charitable contributions made by their employees. If your company is eligible, request a matching gift form from your employer, and send it completed and signed with your gift. Some companies match gifts made by retirees and/or spouses as well.
Gifts From Your IRA
If you are 70 1/2 and older, you may be able up to donate up to $100,000 per year in IRA assets to a qualified charitable organization such as LSS of Northern California. The IRA charitable rollover is tax-free and not included in a donor's adjusted gross income. If you are interested in making a gift through your IRA, please contact your financial advisor for more information.
Stocks
Take advantage of appreciated securities without incurring capital gains tax by donating shares of appreciated stock. Contact Jerry Metzker, Director of Development, at 925.825.1060 x15 or send him an email at Development@lssnorcal.org to obtain the routing slip for such gifts.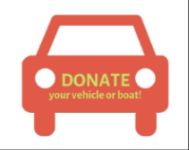 Donate an Old Vehicle or Boat
LSS has partnered with Car Donations Services, Inc. and Donate For Charity to donate your vehicle whether it is running or not.
Car Donations Services, Inc. (CDS) has been helping local charities since 1990 and will take care of every aspect of your car donation, allowing you peace of mind that the transaction will be completed efficiently and properly. CDS is a licensed Commercial Fundraiser as recognized by the California State Attorney General's Registry of Charitable Trusts.
To donate go to: Car Donation Services
or call 1-888-6TO-GIVE (1-888-686-4483)