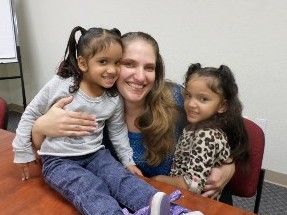 "Before I was accepted into the program at Saybrook, I was so tired of hearing no. I didn't give up. I now know if I have come this far, I can do anything.  It's nice to have a place to call home. The girls love it here. We have our own rooms and there are lots of friends for them to play with. I am thankful for the blessings I have been given and for those to come because I know this is not the end.  To be continued..." ~ Lucinda
Saybrook Apartments are located in Sacramento and offer a comprehensive system of care to 56 homeless families in which one adult has a disability. The overall goal of the program is to move families from poverty to self- sufficiency. To support families in achieving their goals, the program team provides general support in the form of case management, and expertise in employment, child and family development, mental health and alcohol and drug concerns.
Case managers work with families to create their own case plans to achieve both short-and long-term goals in a variety of areas based on their priorities.  Because the program is specifically designed for adults who experience challenges in the areas of mental health, alcohol and drug addiction, and/or physical disability, case managers work to ensure that any needed support services are in place.
The program provides a variety of on-site groups from life skills groups to substance abuse recovery for adults. An on-site computer lab is available for employment searches and other activities related to case plan goals, and licensed child care services are available at the property.
In addition, the program works with residents to develop a trauma-informed approach, which acknowledges how traumatic experiences have impacted the growth and development of residents, both adults and children.