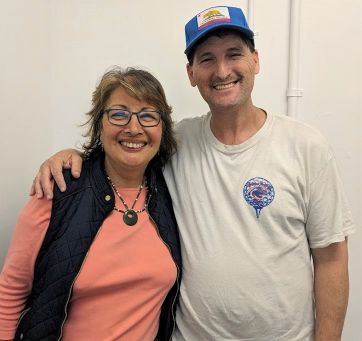 Our childhood experiences shape us and often affect how we lead our lives as adults. Russell's life story is one of resilience, faith and love.
By the time he was nine years old, Russell had lost a sister to a house fire, a brother to a drug overdose and another brother, to whom he was very close, in a freak accident at home. Both parents battled with drug and alcohol. The boy didn't understand their disinterest in family life, lack of structure or discipline. All of this took its toll on the boy. He struggled in school due to learning disabilities and got in trouble too often. His parents didn't seem to care.
When police raided the family's house and busted his father for dealing, it made the local news. Everyone at school asked him about it. The family lost their home and the family literally scattered. The teenage Russell was left to his own devices. He couch-surfed and found odd jobs to earn a living, and he attended a continuation high school. Eventually he was placed in foster care and sent to Glenwood, a juvenile detention camp. He responded to the structure and discipline; his reading improved to college level and his math skills to 8th grade. From there he enrolled in the California Job Corps program and learned how to pour concrete.
Russell's upbeat personality belies the chaos and sadness he experienced as a child in Daly City. "My faith helps me. I pray a lot."
In the California Job Corps, Russell met his wife. She, too, had a chaotic childhood and they had a strong common bond. They married at the tender age of 18 and promptly started a family. Russell worked steadily in construction and a variety of other jobs over the years. Unfortunately, he and his wife began to follow in their parents' unhealthy habits. When their oldest daughter was 16, Child Protective Services stepped in and placed their three girls in foster care. "We were devastated," said Russell.
The couple entered a treatment program, but his wife eventually died of AIDS at age 47. As Russell's world collapsed around him, he suffered from depression and continued using drugs. He still found odd jobs but that income didn't pay the rent in expensive San Francisco. "I never collected welfare," he stresses. However, he found himself homeless. Being homeless was hard on Russell. "You are always cold. You are always uncertain." He wanted to get sober, too, but it was hard. At one point he contemplated suicide.
Ultimately, Russell's motivation to have his children be proud of their father helped him turn the corner. He enrolled in a drug treatment program and then in the Episcopal Community Services' CHEFS program, which trains men and women for jobs in catering and restaurants. That led to other jobs and he was enrolled into the LSS money management program as part of his rehabilitation. At LSS, Russell learned financial management and responsibility, and he received the compassionate and nonjudgmental guidance and encouragement he needed to rebuild his life. "Carmen (LSS case worker pictured with Russell above) doesn't tell me what to do, but she offers me guidance. It works like a charm."
 
Today at 51, Russell smiles a lot. He is healthy and has a responsible job as a Certified Nursing Assistant caring for two disabled men living in supportive housing and is saving to take the courses necessary to become a Licensed Vocational Nurse. Russell proudly shares that his three children are greatest achievement in life, because they lead stable lives and do not smoke, drink or take drugs. He has good relationships with his daughters and is the proud grandfather of nine. He has close bonds with his two surviving sisters.
Life is good.