Big Day of Giving - Art Show & Celebration 2023
Thank you so much to all of our wonderful donors and attendees during Big Day of Giving! Our Art Show & Celebration was a huge success, full of fun, laughter and wonderful art.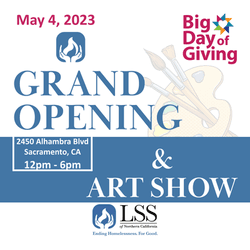 Thank you to everyone who attended and contributed, the Lowriders, the performers, the artists and our fantastic sponsors!
We raised over $8,000 in donations and are so thankful for the support and generosity towards LSS on Big Day of Giving and every day. Together we can continue to work towards ending homelessness...for good.
 
See more photos of the event on our Gallery Page
2023 BDOG Art Show & Celebration
Thank You To Our Sponsors!
Art Advocate
Art Lover
LSS Board of Directors

Scott and Betsy Etzel
Did you see LSS on Good Day, Sacramento?
Check out the coverage: LSS on Good Day Sacramento.
For more than 40 years, LSS of Northern California has been providing essential services and housing to the most vulnerable in San Francisco and the Sacramento region. Our vision is to first ensure that the individuals we serve have a safe and comfortable place to call home. Then we provide the essential support services so that they can stay there. We need your partnership to continue to do this.