"I like all the programs that LSS offers to us. It has variety and flexibility. I like the Lutheran staff and the nurse too. They are attentive to the needs of the clients."
—Polk Street resident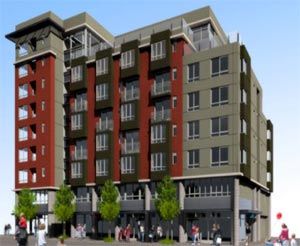 "Aging in place with dignity and grace" is our motto for the services Lutheran Social Services provides at Polk Street Senior Housing. Polk Street opened its doors in November, 2008 to house formerly homeless and low-income seniors in San Francisco. Many residents have complex medical, mental health, or substance use concerns. Our community is home to more than fifty formerly homeless seniors who are making the transition into independent living after being in homeless shelters, medical and psychiatric programs and institutions, substance use programs, and other temporary living situations.
We assist residents through case management services and we regularly host community-building activities that give residents opportunities to engage with each other in a safe and positive environment. Our staff works as a team with an onsite registered nurse provided by the San Francisco Department of Public health to support residents in making their initial transition into independent living. LSS staff also provides support to help them maintain their independence, stability, housing, and overall quality of life.
More About Polk Street Senior Housing
In addition to our case management and community-building services, LSS case managers collaborate with the onsite property management staff to provide advovacy to residents. In order to aid residents with their long-term stability, LSS staff provide connections to in-home support services, Meals on Wheels, Paratransit, and Adult Day Health—services that keep seniors living safely in the community rather than in institutions. We also make referrals to medical, mental health, substance use, legal advocacy, and vocational training programs as needed.
Another services we provide is a weekly food pantry distribution provided by the San Francisco Food Bank where residents receive a free bag of groceries.  There are coffee socials, game nights, holiday and cultural celebrations, and community meetings. The community at Polk Street Senior Housing is thriving, with significant participation at events. Many residents contribute to events by cooking and sharing food, decorating, and setting up for events and cleaning afterwards. In many cases, the connections created between residents at these events results in developing ongoing relationships which contribute significantly to residents' stability, quality of life, and ability to maintain their housing.
Donate to help support the work and programs of LSS.