"I went from being suicidal, not eating, and having the worst depression, to being a beautiful, God-loving, dressing-up-all-the-time senior citizen. LSS inspired me to the utmost."
—Mosaica resident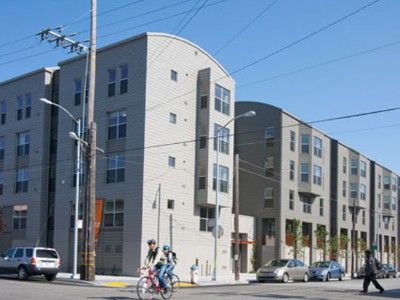 Mosaica Family and Senior Apartments (MFA) is a permanent, supportive housing complex with 117 units, and is an entire city block dedicated to affordable housing. Lutheran Social Services' goal at MFA is to create a stable, supportive, intergenerational housing community.
We provide case management to ninety-six households at MFS. Our case managers begin helping and supporting the resident families as soon as they start moving in, and throughout their transition, helping them acquire necessary household items, such as bedding, kitchenware, and linens. Our case managers offer on-site support services to the residents, including individual counseling, referrals to outside community service providers, childcare, rental assistance, vocational services, and senior day programs.
Case managers also advocate for and assist residents with the property management, including rent payment plans, maintenance requests, accommodations for health and safety needs, and translation services. Case managers work closely with the families and seniors in the community to determine their needs and help develop case plans to stabilize and maintain their housing status.
More about MFA
LSS support services at Mosaica provide residents with a wide variety of community activities, including a computer lab, ESL (English as a Second Language) classes, parenting classes, and banking and budgeting classes. We host weekly social activities such as Senior Tea, when seniors can socialize and have breakfast together. We also host a weekly Coffee Hour, which provides all residents with a light breakfast and a place to visit with their neighbors. And each week, we provide Food Bank distribution for the Mosaica residents, carried out by our support services team and community volunteers, providing each household that attends with a bag of fresh groceries. We also host events with food and entertainment for all major holidays, conduct special ethnic celebrations, and host a monthly MFS community meeting. Our staff and the residents work together to build and maintain a strong, vibrant, and successful community.
Donate to help support the work and programs of LSS.