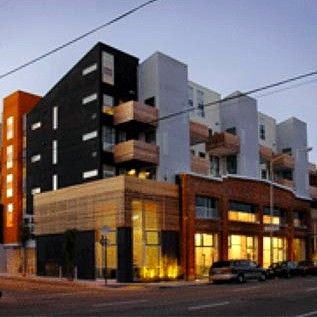 "I like it here. People are helping people. If I feel lonely, there are games and parties. If I have a big problem, there is always someone to talk to and I don't stress out."
—A Resident
Folsom Dore Apartments (FDA) is a 98-unit mixed-income building that offers permanent supportive housing for formerly and chronically homeless individuals and families. Many residents enter FDA bearing the effects of chronic homelessness, including untreated severe and persistent mental illnesses, substance abuse problems, and complex medical problems.
We provide onsite supportive services, working as a team to help residents meet their goals as well as helping them find necessary medical, mental health, substance abuse and financial resources. We support them to live successfully within their own apartments and assist them in living within a community.
Our goal is to help residents maintain the greatest possible independence and stability. We work toward this by providing individually tailored services such as counseling, crisis intervention, conflict management, and advocacy with on-site property management. We work to support individuals and families to achieve self-sufficiency and develop ways to empower, educate and recognize their own individuality.
More about Folsom Dore
LSS hosts many regular community-building activities at FDA. These activities are important opportunities for residents to engage with each other in a safe and positive environment. We also offer a weekly distribution giving residents a free bag of groceries from the San Francisco Food Bank, and we provide support services and regularly host coffee socials, game nights, holiday and cultural celebrations, psychoeducational workshops, and community meetings.
LSS staff hosts events for all major holidays, with food and entertainment. We also host special ethnic celebrations. Our goal is to help residents achieve a sense of permanency and home base from which they can create positive memories and resolve personal issues.
Donate to help support the work and programs of LSS.