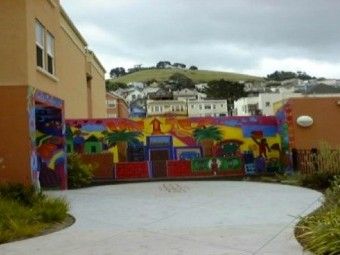 The Bernal Gateway Apartments (BGA) is a permanent supportive housing complex for formerly homeless families located in San Francisco's Mission District. Lutheran Social Services provides onsite support services to the families who live at BGA. Our team is led by a full time case manager and includes a youth activities coordinator who work together to provide families with resources necessary for family stability.
The case manager provides services that are crucial to keeping families in housing, and that build emotional and financial stability. Services include individual and group counseling, psycho-social education, community building, tenant organizing, property management advocacy, and referrals for medical care, mental health care, and community resources.
The youth center is a safe, educational, and enriching after-school environment for the at-risk youth in the BGA community.
More about BGA
Our youth activities coordinator provides academic support and encouragement to the young people at BGA, through tutoring and creating incentives for academic improvement. The coordinator also takes BGA young people on summer recreational and educational outings. Youth activities include an after-school program at the youth center located onsite at BGA. The coordinator counsels the young people on youth-related issues and makes referrals as needed. 
The LSS service team provides weekly food distribution from the San Francisco Food Bank to all BGA residents, giving each household a bag of fresh produce and cooking staples. The team facilitates a monthly community meeting, hosting presentations from local community organizations. LSS also hosts events for all major holidays, including our Winter Holiday Party, Thanksgiving Potluck, Halloween Party, End of the Summer BBQ, Mother's Day Celebration, and more.
Donate to help support the work and programs of LSS.