May 7, 2020, 11am - 3pm
Antiquite Maison Privee  - 2114 P St - Midtown, Sacramento
Join us on for art, food and music to benefit the programs and individuals and families served by LSS of Northern California.
New Beginnings will feature original art work created by formerly homeless youth and adults in LSS' supportive housing programs.  Many of the 36-plus pieces include acrylic, oil and mixed media on canvas, sculpture and crafts, and will be available for purchase. Proceeds from purchased work go directly to the participating artists. Many of the artists will be at the event to share their art process.
Admission is free, however donations in any amount are requested and appreciated.  Local singer-song writer Braden Scott will perform an acoustic set. Complimentary refreshments served. Free and metered street parking are available around event site.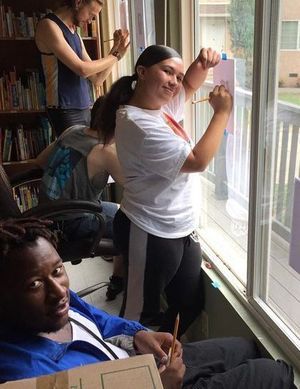 Big art, Big giving!
This art event will be held in conjunction with Sacramento's, Big Day of Giving which is a 24-hour giving challenge that brings together the region's nonprofit community to help raise much needed unrestricted funds. Your donation to LSS will make a BIG difference on Big Day of Giving...or you can donate now here!
For more information contact Stephanie Casenza at 925-825-1060 x15 or development@lssnorcal.org