The impact of the current health crisis affects us all. As providing housing services is essential, LSS will remain open (with all staff and clients following the most current infection prevention guidelines) to continue our services and mission of promoting the stability and honoring the dignity of formerly homeless individuals and families of all ages.
Read a message from Carol Roberts, LSS CEO (here).
Read a few ideas and resources while home-bound (here).
To protect ourselves and others in fighting this health crisis, we cannot forget those who are at highest risk of infection and are unable to provide themselves with the essential items, such as food, cleaning products and personal hygiene products. Now more than ever, the formerly homeless youth, families with children and seniors that we serve need our help and support to remain safe, healthy and to remain on their path to self-sufficiency.
A donation (Donate here) in any amount will go directly to services to assist our clients by purchasing and delivering bags of food and daily living essentials to their apartments. Additionally, we can help clients and local businesses by helping to deliver take-out items to our clients.
You can also purchase essential items directly from AmazonSmile (here) and we will deliver them to one of our housing program sites.
If you are a current or retired federal employee, you can make a gift to LSS through the Combined Federal Campaign (here).
Homemade mask donations!
THANK YOU to those wonderful folks who have created and sent homemade, sewn masks for our clients and staff to keep themselves and others protected! We can always use more of these wonderful masks--if you would like to create and donate a batch of masks, please contact Rachel Flores at rflores@lssnorcal.org.
How we're doing this together.
Our wonderful staff from our Sacramento adult programs received a good workout recently assembling and distributing food boxes from the local food bank to clients. Many of our clients are among the most vulnerable to the COVID-19 virus. Recipients of these food donations were reminded that they are not alone and that LSS will still be here providing some of our most essential services.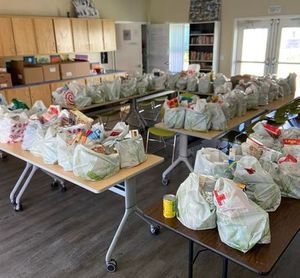 Our Inland staff were hard at work transporting much-needed food and toilet paper to clients. Staff met halfway between Sacramento and Redding to distribute these essential supplies! Toilet paper, disinfecting wipes and hand sanitizer are in short supply. You can help our clients get these essential items by shopping AmazonSmile.